---
---
| | |
| --- | --- |
| | |
| Perspective drawing of the new BBSO telescope. The light path through the telescope is shown in light gray. | Original 1970 BBBSO telescope. |
---
The BBSO NST (New Solar Telescope) replaces the old telescope assembly (65-cm vacuum telescope, 25-cm vacuum telescope, 20-cm full-disk telescope) at BBSO.
---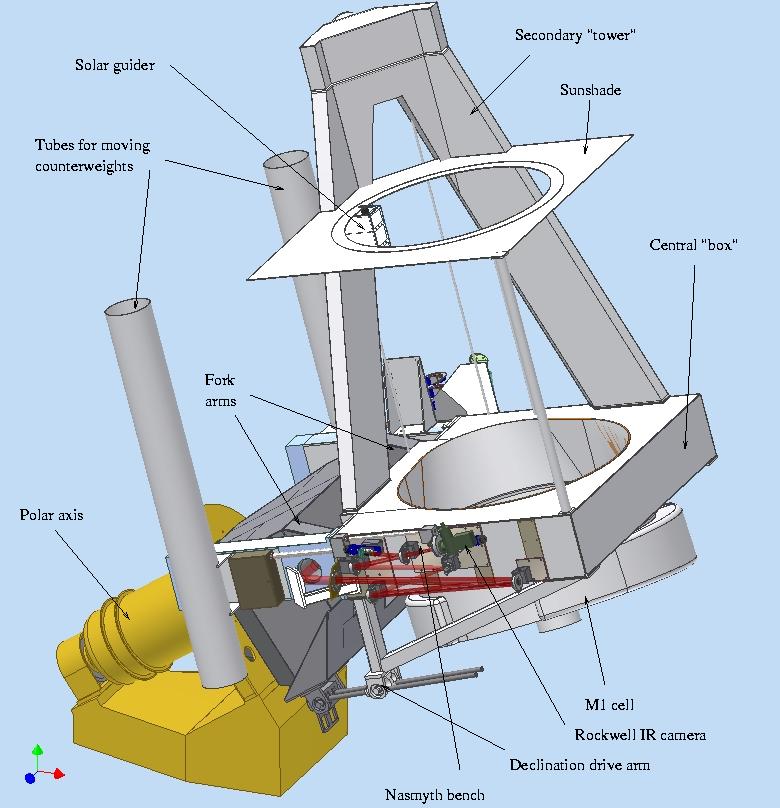 A detailed drawing of the east side of the NST, showing the Nasmyth focus bench. The declination drive arm is also seen.
---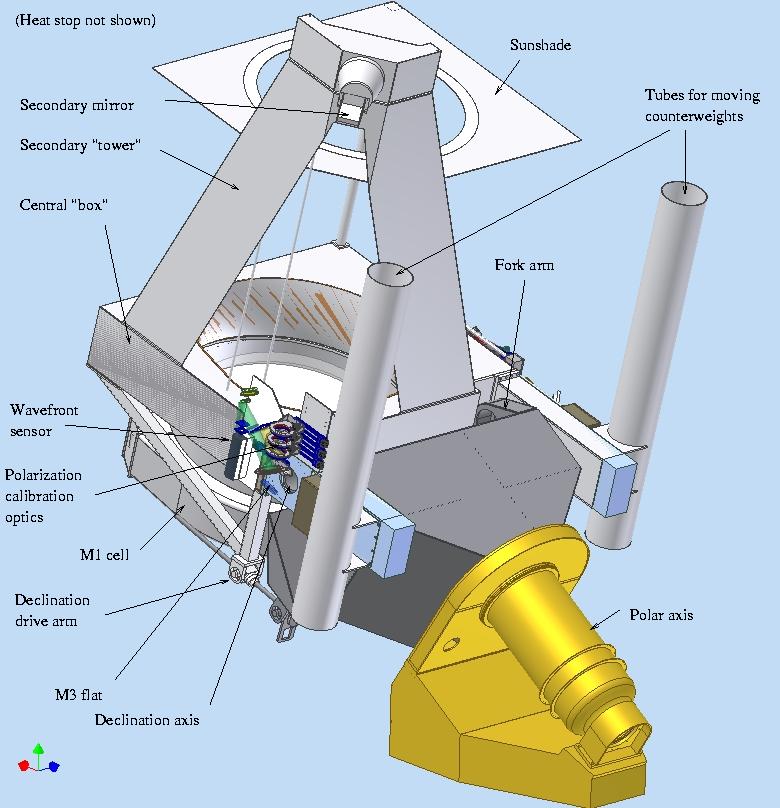 A detailed drawing of the west side of the NST, showing the optical path near the M3 mirror and the location of the polarization calibration optics.
Properties of the NST:
1.6 m clear aperture
f/2.4 primary mirror (M1)
83.2 m effective focal length (f/52 at Gregorian focus)
Plate scale 2.48 arc sec / mm
Off-axis Gregorian configuration
Figuring of primary mirror (M1) to λ / 30
10-15 Å finishing of M1
Secondary figured to 20 nm accuracy and has protected silver coating.
Open telescope structure with equatorial mount and new, ventilated dome
Real-time systems for maintaining telescope alignment
Computer controlled pointing and tracking
Active optics
Adaptive optics
Multiple focus locations that serve a variety of focal-plane instrumentation.
3 arcmin FOV in Gregory-Coudé focus.
Wavelength range from 0.39-1.6µm with AO
All wavelengths > 0.39 µm also at Nasmyth focus without AO
Diffraction limited resolution of 0.06″ at 500nm and 0.2″ at 1,565nm (with adaptive optics)
Temperature monitoring at many points on the telescope
Telescope optics (M1, M2) made of Zerodur.
---
A Powerpoint presentation on the new BBSO telescope (> 35 MB) from March 2008 can be found here.
---
[ BBSO NST Project Pages (password required) ] [ CfSTR NST Project Pages (password required) ] [ Installation Progress ] [Large Solar Telescopes]
---

Comments:
Webmaster webmaster@bbso.njit.edu
© BBSO/NJIT - Last modified: April 7, 2008.