The large-scale flows may be at the origin of small sunspots and pores.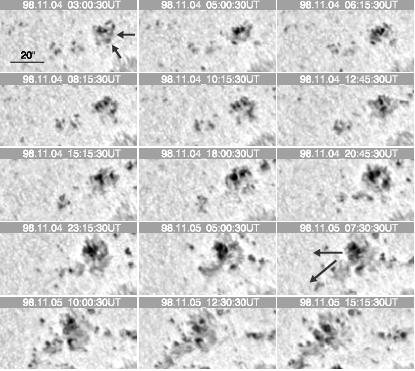 Figure 3.

A fast moving sunspot, leaves the removed magnetic flux behind, which is being picked up by the supergranular flows and displaced to the cell boundaries, continue to move along the boundaries and slow down at accumulation sinks and coalesce into a small sunspot. Figure 3 demonstrates this. The sunspot B was collected from the magnetic fields of the sunspot A brought by the large-scale flows, indicated by the arrows in the top-left image. The sunspot umbra consisted of several pores which were pushed together, but they did not inosculate into one umbra as bright umbral bridges, which marked boundaries between the pores, were seen (image taken at 05:00:30 UT on November 5).

It is worth noting that the evolution of sunspot B was a competition between two parties: concentration of the magnetic flux by converging motions and destruction of an accumulation sink. The sunspot destruction was possibly connected with a rapid change of the sunspot velocity, which made the accumulation sink unstable. The mean velocity of the sunspot between Nov 3, 03:00 UT and Nov 4, 23:15 UT was about 0.08 km s-1. However, after 23:15 UT its velocity suddenly increased up to 0.28 km s-1. The sunspot was completely ruined by 15:00 UT on November 5. The arrows in the 07:30:30 UT image show the directions in which pores moved after the sunspot was destroyed.